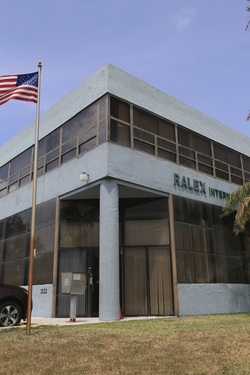 Welcome to Ralex International Corp. We are committed to delivery excellence in transportation and logistics solutions to all of our customers. With 20+ years of experience we are a leading provider of integrated logistics services to refrigerated and frozen food, ice cream, meat and seafood, fresh produce.


Ralex International will help build a stronger, more secure chain for your temperature-controlled , time- sensitive and high-value products. We work with some of the world's leading shipping lines , and we have other customers in related industries, such as McDonalds, Burger King, Aga Gas & Linden Venezuela, Caribbean Supermarket , Sky Chef Panana, Marriot Hotels, Feduro Panama, Tagaropulos Panama , Chilli's, Pizza Hut, KFC and many more.

Ralex International is a stable resource with solutions that respond to customer demands seamlessly and flexibly in a marketplace that faces unprecented industry changes. As a leader in safe, cost-effective transportation of temperature sensitive goods, we are committed to delivering solutions that enable your business to maintain the highest food safety and quality standards. We understand food and other types of perishable shipments, as well as dry commodities, can become worthless, or even dangerous, if not kept at the required temperature and transported to the destination in a safe, timely manner.

Ralex International leadership team consists of Mr. Alex Rosa, President, whose duties include supervision of traffic and operations, as well as dealing with all Government Agencies that oversee the export of Foodstuff; Mr. Reinol Mesa, Vice-President, in charge of sales, marketing and overall business development and Ms Lilliam Perez, Accountant and Administrator.

Ralex International has developed a unique system by building thermal walls inside the shipping reefer containers which allows us to load goods, that require different temperatures in the same container; thus, maximizing container space and drastically reducing the cost of shipping. Most important, goods arrive at destination in the condition they were shipped.

In case of shipments by air, we repack frozen and refrigerated foods into IATA approved containers reinforced with thermal walls and with gel packs or dry ice, as the case may be. Our knowledge about U.S. export regulations and import requirements of foreign countries, allow us to assist our clients with shipments of any kind. Thanks to the great volume of shipments to a variety of destinations in Latin America and the Caribbean, we are in the position to negotiate extremely competitive rates with a number of steamship lines as well as airlines.

Our facilities include approximately 50, 000 square feet of warehouse space to handle dry, refrigerated and frozen cargo, and are conveniently located just a few blocks west of Miami International Airport and 15 minutes away from the Port of Miami. Our fleet of trucks can pick up and deliver cargo within the Miami Metropolitan area in a timely manner, and our contracts with several inland carriers allow us to offer our customers service from originating plant in the U.S.A. to our facilities, at great savings, including inspections for meat, seafood and cheese products in our facilities.

Whatever your transportation logistics needs, whether you are transporting cargo via ocean, air or land, Ralex International Corp. has the expertise and flexibility to handle your needs in a safe and secure manner. Contact us today for all of your shipping needs, and allow us to design a custom tailored solution for your cargo.



---